Welcome to Hypnotherapy & BWRT® in Essex
I am Gavin Bowtell a professional hypnotherapist and Advanced BWRT® practitioner.
BWRT® stands for BrainWorking Recursive Therapy®.
My practice is in Hainault which is convenient for Greater London, Essex and Hertfordshire.
I understand and appreciate that choosing a therapy is an important decision for you, and that seeking help can be hard and take courage.
It is my job to help you make an informed decision about whether hypnotherapy or BWRT® is the right option for you. Click Here to find out more about Hypnotherapy, or here to find out more about BWRT®.
My approach is non-judgemental so whatever your age, race, religion, sexuality, gender identity or life experience you will be treated with respect and acceptance.
I see my role as working with you to overcome your obstacles and achieve your goals.
Free Consultation
A free 30minute consultation by telephone is available to you. This will provide you with the opportunity to learn a little more about hypnotherapy and BWRT®, to ask your questions and to talk about your issues in confidence.
The free consultation is without any obligation, but does not include enquiries relating to sexual difficulties – for these matters consultation in person is required.
Following your free consultation you can go home and think about what you want to do, or as many people do, you can begin therapy that day.
As a professional therapist I use a variety of techniques including BrainWorking Recursive Therapy (BWRT®) Hypnotherapy, NLP, Time Line Therapy, Regression Therapy, Inner Child work, Parts Work, and EFT which may form part of any therapy session. BWRT ® sessions utilise that therapy only.
Please feel free to call me or email with your questions or to book your appointment.
I look forward to meeting you.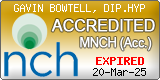 Contact the Essex Mind Coach
Gavin is always happy to answer any questions or concerns you may have in complete confidence. Just use any of our contact details and make the decision to change your life today!